Question- Is it just a basement or is it actually a Bonus Room? Having a basement in a home is typically a perk but often this amazing space is underutilized. Using your downstairs more consciously, with your family in mind, not only creates more square footage in your home but also raises the value of the home.
With all that said, where do you even start? Not to worry, we have some exciting and inspiring ideas to help you build the perfect Bonus Room in your house. There are so many ways to create everything from a new craft room to an in-law suite. We put together our top 10 ways to revamp your basement.
Game Room – There are so many ways you can turn your downstairs into the perfect spot for not only Game Day but also a rowdy round of Scatergories! Using things like wood wall treatments, the right color scheme, and adjustable track lighting, it is easy to create a cozy space to spend an evening watching movies, playing games, or cheering on your favorite sports team!
Playroom – Your basement has the capability to become a wonderland for your kids. That might sound far-fetched but you would be surprised what you can do with a blank canvas and little creativity. You can add in a fort (or two), interactive carpeting, smart storage for toys, and maybe even bunk beds to create the best spot for sleepovers. Bonus! The upstairs is nice and quiet for the rest of the family!
In-Law/Guest Suite – In your basement space you can create a full suite for your loved ones, complete with a kitchenette and full bathroom. This allows for privacy for your guests and yet they are still right there. Additionally, as our parents age, planning for a place that they can be with you, and feel at home, becomes more important than ever. You can custom-fit the suite with aging in place in mind. Let us help you build an oasis, right downstairs.
Home Gym – Who needs a gym membership when you can build a fully functional home gym right downstairs. Getting creative with the flooring using something with some give, like rubber flooring, can make your new gym space safer. Floor to ceiling mirrors will help you with your squat form. You can even put in sound-proofing so you can turn up the tunes for your workout.
Home Office/Makers Studio – The options are truly endless when thinking of creating a studio or home office in your basement. Home offices are so important as we all adapt to a more remote lifestyle where we need a space that is quiet and professional. For a home office you'll need some shelving, a well-lit area and potentially sound proofing for all of the Zoom calls. In the same vein a craft/art studio can bring a well-deserved space for quiet and creativity. You can build a dark room, set up an easel (or two!), fashion a clay corner and, again, shelving along the walls for storage for all things creative (paintbrushes, fabric, books, paint, tidbits, and doodads, etc). Whether it's office related or covered in paint and clay, your basement has the potential to be either, or both!
Personal Movie Theater – I mean who doesn't want to watch any movie you want, any time you want on the Big Screen?! With some super comfy chairs, soundproofing, and cinematic lighting, you can have your own space for cinematic adventures! Shoot, add in a small kitchenette and you could even make popcorn and nachos with an ice-cold soda! Any night can be movie night.
Short-Term Rental – Did you know, you can actually make money by creating a private apartment in your basement and renting it out? It's true! With the success of Airbnb, VRBO, and the like, your extra room, especially a private one, can make you money! Setting up a standalone apartment and furnishing it is a great way to make a consistent income. Turn downstairs into a moneymaker!
Wet Bar – When entertaining in your newly finished basement, what better way to impress your guests than to also have a Wet Bar? Whether you are working with a small basement or a large one, you have endless options to create a bar that fits your needs. Your wet bar could be anything from a small nook built right under the stairs to a fully functioning bar where you can serve your friends and family tapas with that vintage wine you've been saving for a special occasion.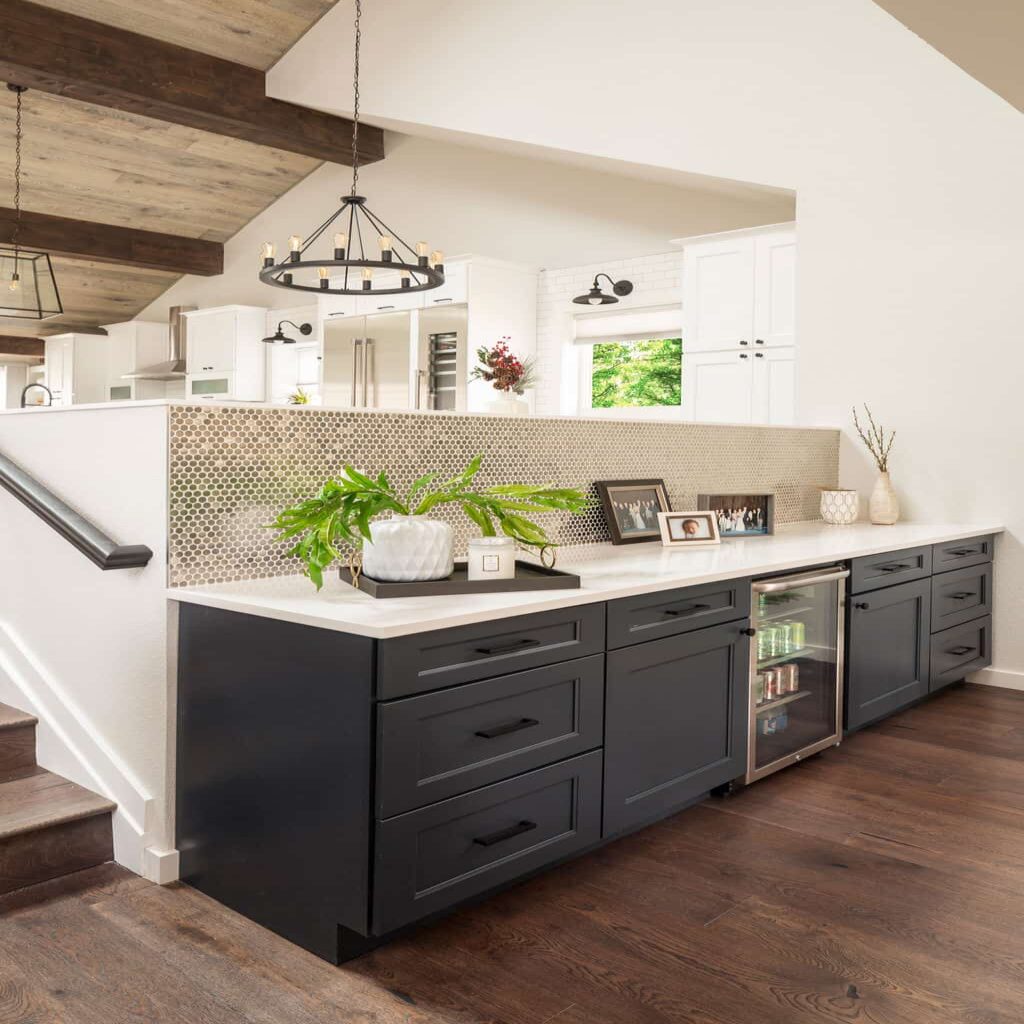 Walkout Basements – Creating a walkout basement brings so much to an often underutilized space. While basements tend to be dark, adding in french doors for the walkout brings much-needed light into the room. Not to mention a walkout provides ease of access and privacy to the space (for your short-term rental moneymaker!). It also provides a stairless entrance which is great for guests that have trouble with stairs. Plus it makes repairs to things like your furnace and water heaters much easier.
Build Multiple Rooms – Have a growing family? Your unfinished basement is a great place to add in a few rooms. Because basements tend to be a blank canvas, you have the ability to create multiple living spaces, depending on the size of your basement. By adding dividing walls and a full bathroom downstairs, your family can have room to grow!
Finishing your basement not only increases the living space in your home, it also raises the value of your home in the real estate market. According to an article by Homelight, "For about every $1,000 you put into a basement refinish, you can expect to get about $700 back." So, basements aren't just for laundry and storage and the possibilities are endless. Let Christie's help you build your Bonus Room! Click here to contact us, let's talk about your project today!