Kitchen cabinets, we've all got them but what do you really know about them except they hold our cereal and bowls? Fun Fact! Did you know that the word 'cabinet' in French originally meant 'small room' and in the 1600s? The term referred to something that would hold collections of things like books and art. In fact, the idea of "cabinets of curiosities", as in rooms full of interesting collections, also emerged around this time.
Nowadays, our cabinets typically hold things like plates, cups, and spices but they can truly change the appearance and usability of your kitchen. There are countless options for customization and styles depending on your budget and space. We've got the skinny on the styles, useability, and space maximization.
So why should you look into getting new kitchen cabinets installed? New cabinets, whether put in during a full kitchen remodel or just a single project, have so many benefits. Not only will your kitchen look refreshed with new cabinets, but working with a company that can help your project be intentional, with your family and your busy life in mind, will create greater usability and efficiency to make your life easier.
Custom cabinets allow you to create much more storage to streamline your kitchen. For instance, you could build roll-out drawers to make pots & pans more easily accessible. You can also utilize valuable kitchen real estate that typically gets wasted by installing a "toekick" drawer for things like platters and lids. A vertical, roll-out pantry makes it easy to store a great deal using a small amount of space. A new cabinet project also brings a great opportunity to match your cabinets with the rest of the décor in your house.
The best reason to go ahead with that kitchen cabinet project or full remodel is the increase of the property value. Because the kitchen is the heart of the home, it is one of the most important places to invest in to create more worth in your property.
Now that we've gone over how much more efficient and thought-out your new kitchen can be for you and your family, let's cover what kinds of cabinets you have to choose from.
Shaker-Style – The most common style of cabinet you see in kitchens is called Shaker-style. We've all seen them and had them and might even have them now in your kitchen! The door has a flat center panel with 4 pieces surrounding it to create a frame. Whether your decor is more traditional or more contemporary, Shaker-style cabinets are a simple and classic look that translates well to almost any design theme. These are typically seen with rail frames and have sturdy construction using high-quality wood.
Louvered – Taking a step into a more lux remodel, the Louvered style cabinet features horizontal wooden slats that can also be seen on windows, furniture, and interior doors. While these cabinets are on the more expensive end of the spectrum, using this style of cabinets can tie together designs and bring up the value of your home. These cabinets also allow ventilation because of the small gaps between the slats. This makes them ideal for pantries, laundry rooms, and anywhere that could benefit from a bit of extra air.
Flat Panel or "Slab" – Flat-panel or "slab" cabinet doors are simple but stylish. They offer a minimalist look using hard lines and little detail. This style works well for a contemporary or modern theme.
Inset-style – Inset-style cabinets, as the name suggests, are inset and flush against the frame creating a smooth aesthetic. The cabinets use push-style hardware to open and close drawers and cabinets. Inset-style cabinets can be on the more expensive side because of the work involved to install them but, if installed properly can last a lifetime and improve the value of your kitchen and home.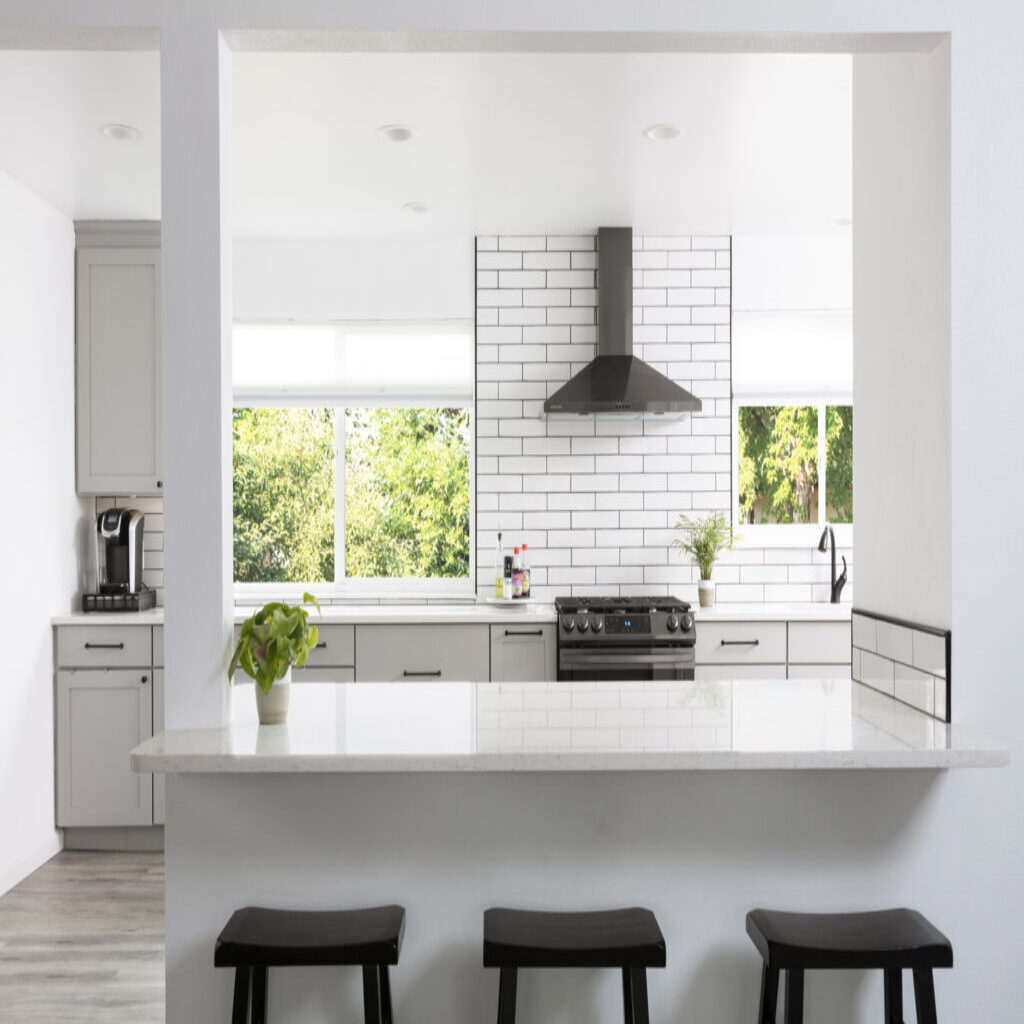 Full Overlay – This style is the less expensive cousin of the Inset-style. Full Overlay cabinets offer a similar appearance by installing the doors and drawers so that they completely cover the frame, producing that clean finish at a lower price tag.
Beadboard – Beadboard is essentially made using multiple rows of vertical pieces of wood with an indention, or beard, between each plank. This style of cabinetry can produce a more dynamic end result to your kitchen. Beadboard naturally lends itself to that quintessential cottage or farmhouse look.
Phew! That was a lot of information, and that just covers the basics. Who knew you could have so many options for just the cabinets? We didn't even go into handles and hardware, that's for another blog. While the many decisions to be made when doing any kind of remodel are vast, with the Christie's Complete team of professionals on the project, we will help you all along the process to create the kitchen of your dreams!