This month we wanted to showcase our ability to fully execute a whole home remodel, from top to bottom. This, of course, is no small feat and comes with its fair shares of challenges and triumphs. We are going to take you through one of our most favorite projects of all time.
Back in 2018, Kelly S. came to us with a massive project that we were eager to take on. She bought a "fixer-upper", as they call it, in Boulder, CO, and was looking to pretty much overhaul the whole place. Kelly had a brand new baby and was looking to build the best possible home for her new family. This included knocking down multiple walls, adding support beams, and completely changing the layout of the original house. We sent the them our quote for the project but unfortunately weren't their first pick. Bummer right?When that company did not meet her expectations, she came back to our team at Christie's to get the job done right! 
Before we actually started the demo in the house, the homeowner sat down with our in-house designer, Alyssa Christie. She collaborated directly with the client to create a framework that took into consideration her wants, needs, and aesthetic in a 3D rendering. Because this is a whole home remodel, rather than just a kitchen or a bathroom, the 3D rendering is also a great way to see how the design of each room will be unique yet unified. It is at this point where you can see how materials such as tile, countertops, flooring, cabinetry, and even paint colors will look in your space. Each piece to the renovation puzzle is necessary and will come together in the end to realize the vision. 
"After 2 months of planning the project (creating detailed layouts, and pulling all the bids together to get the final proposal) we were then able to order all the materials, put in for permits, and start working on the buildout of our clients dream home," said Alyssa. "Whenever you tear down walls you always have to prepare for unforeseen circumstances. At Christie's, we make sure we are able to meet with the client on-site to discuss the design changes needed to complete the project exactly as promised."
Oftentimes it isn't until you start to remove old flooring, carpet, or cabinets when you find out what you are really working with. Right away with this project, we had an unexpected asbestos removal. Major challenges like asbestos can cause setbacks and at Christie's, we are always thinking ahead. Setting aside some of the budget for a contingency plan helps mitigate any issues so we can get right back on track. 
When it comes to the actual construction, this home needed a lot of work. Thankfully for our clients, we work with some of the best-licensed contractors in Northern Colorado! By getting rid of walls throughout, we were able to open up the space and create a light and airy environment.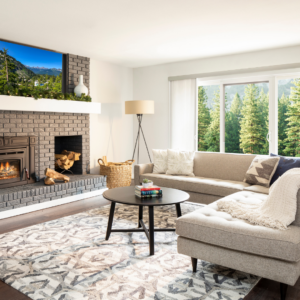 Our client wanted the great room to be a comfortable, yet sophisticated space for family time. Working with Alpine Lumber, the home now has eye-catching vaulted ceilings with rustic wooden beams throughout to not only add to the aesthetic but also to provide structural integrity. After giving the fireplace a much-needed facelift, we finished off this room with a handy wet bar!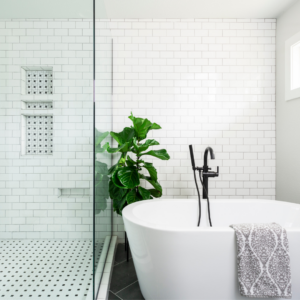 For the bathroom and laundry room, patterned tiles were custom ordered all the way from Florida to create a fun design element. The clean lines and light colors provide the perfect space for relaxation and function.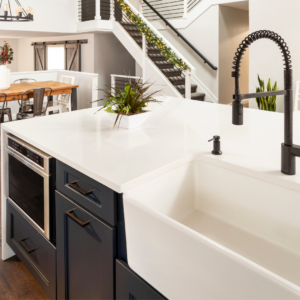 Moving on to this gorgeous kitchen you'll notice the sophistication created in other parts of the home overflow into this open concept kitchen. This large kitchen island makes the room look larger and provides extra seating with a playful splash of color. We also worked with one of our longest-standing vendors, Stone Concepts, to build a stone waterfall countertop, which turned out beautiful! 
During construction, the homeowner was living in another location, which allowed for a more efficient process from start to finish. With the home empty, we were able to get our whole crew into the home right away and get to work. The whole project took about 6 months and when it was time for the homeowner to move in, we had all hands on deck getting everything cleaned and tidied up before the big reveal. 
Let's hear what Kelly has to say about her experience working with our talented team at Christie's – 
"Christie's is a reliable and trustworthy partner for any home remodeling project. We partnered with Christie's to design and remodel our entire home in Boulder and we LOVE how it turned out. They helped us work with the city to get permits and approvals, worked well with our other partners (landscaping, painters) and helped us get into our home in record time. We would highly recommend them on any project."
Whole home remodels are some of our favorite projects because they are the perfect opportunity to really unite the entire home. With a coherent and united space, your home can age with you, in style! When you are ready to get started on your home improvement project we are ready for you! Give us a call today.