At Christie's, we pride ourselves on our excellent remodeling services for residential properties in Colorado. We'll take a deep dive into one of our latest remodels in this case study.
For our latest case study, we asked our clients, Suzanne and Chris Mauer, to share their highlights, memories of the project, and how they feel about their new space.
To offer some context for this case study interview, the Mauers moved to Colorado from the Virginia/D.C. area in January and were looking for a contractor they could trust. Before moving from Virginia, though, they had hired a team to pop the top of their house (add a second story), but the contractor ghosted them for weeks. The family lost their deposit on the project and were disappointed. It was not until they emailed the CEO of the construction company that they got a response. By then, it was too late. Very disappointed, they not only scrapped the project but decided to move to CO.
Once in their new Colorado home, the family knew that no matter what remodeling they planned to do, they wanted to work with someone they could trust. The project's scope was substantial: remodeling the kitchen and pantry and reconfiguring the basement, with the kitchen highest on the list. The family was looking for the right team to get it started.
When it came to finding a contractor this time around, the Mauers opted to use the online community Houzz. They got many responses, including one from Christie's, which won them over. The main appeal, the Mauers said, was that Christie's Complete Services, as the name suggests, could handle the complete project, meaning there would be no need to hire multiple contractors. Above all, they wanted a responsive company with which they could build a relationship.
The family was most excited about having a new kitchen, explicitly removing the original microwave and oven below embedded into the cabinets. Alyssa utilized our 3D design technology to help the Mauers visualize the results throughout the design process. The program Alyssa uses is an excellent tool for realistic, real-time examples of what the remodel could look like; it allows us to show changes like the location of windows, the materials of the floor, etc., all with the click of a mouse.
Chris and Suzanne said of the day-to-day remodel, "Even though we had people in and out of our home for months, we never felt displaced.
"We rearranged a few things but never felt the impact – until the kitchen remodel. We lived out of the dining room for two weeks during that time. If that was the biggest challenge, we consider ourselves lucky!"
While there were unavoidable delays due to supply chain issues, working with the Mauers was an outstanding example of collaboration. The family was patient, understanding, and fun to work with. They handled hiccups graciously and trusted Christie's team to take care of everything. Christie's went above and beyond to make the transition as easy as possible for them. "Christie's even gave us a spare microwave!" the Mauers added.
Even after a mixup led to a delay in cabinet installation, the Mauers stayed upbeat, saying, "It's part of life. Things don't always follow your timetable."
Chris credited Alyssa's problem-solving and can-do attitude regarding cabinets specifically. Initially, when their cabinet shipment arrived, items were missing. Then the replacements arrived damaged. He said that, without skipping a beat, Alyssa had it covered and replaced the cabinets.
As for advice to fellow homeowners thinking of renovating, they said, "Be patient. If you're doing a room you use every day, like the kitchen, manage your expectations. If you can make it work, adjust to using a hot plate, a microwave, etc., then you can do the remodel. Or, if you have the chance, and neighbors who can check up on the remodel – there's no better time to travel!"
No matter the surprises or challenges, Christie's did everything possible to keep things moving on schedule, whether that meant hiring a new subcontractor, ordering new supplies, or coming up with solutions. This can-do attitude led to a change in the work scope – pleased with their partners, the Mauers decided to add to their wishlist – and had Christie's refinish the floors and replace the windows.
"We're so lucky we were in a position to do this." said the couple of the final product. "The kitchen and basement are both big projects, and all in all, a great experience! Considering supply chain issues and the booming DIY home improvement market causing limited resources – we are thrilled we could make this happen."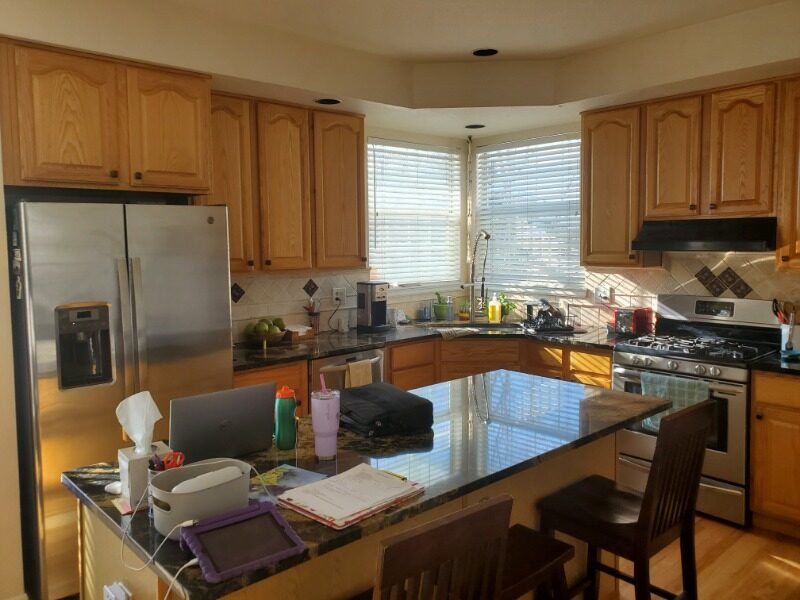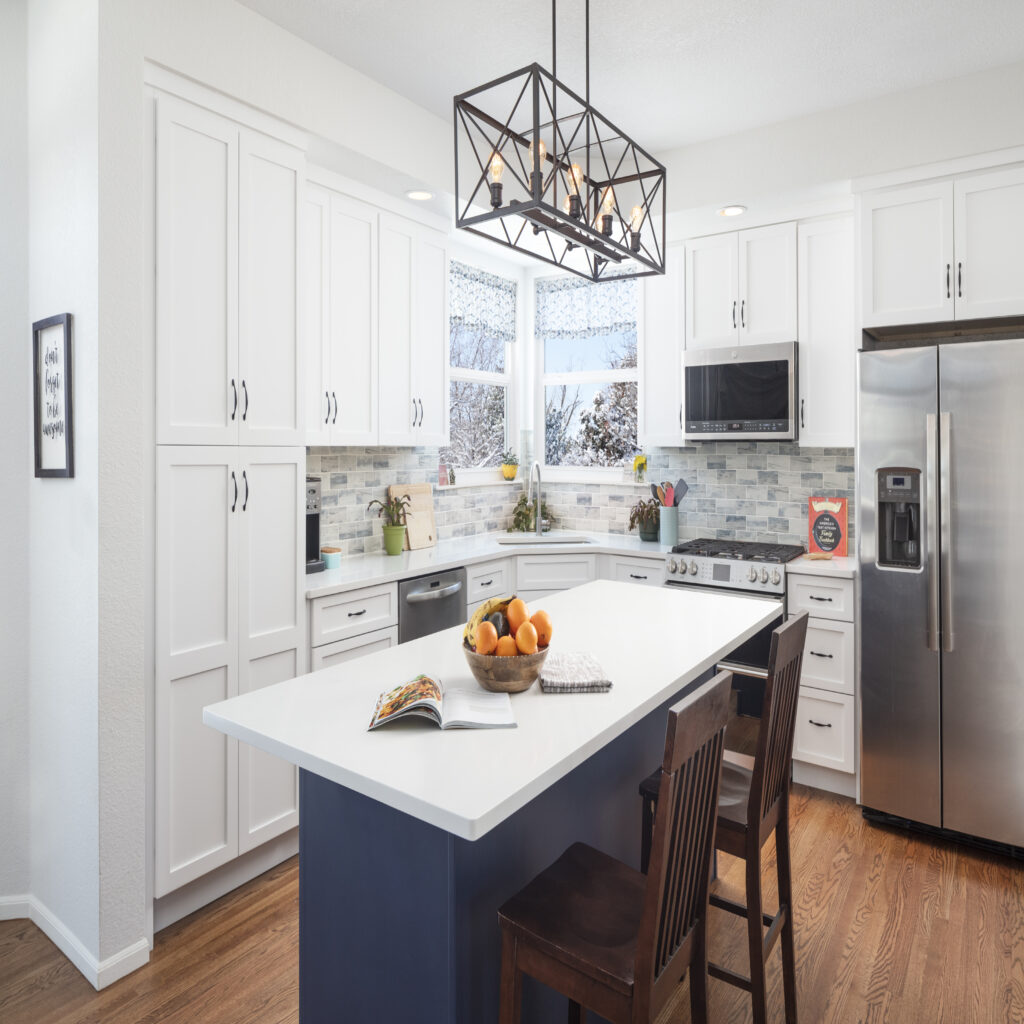 So how do they feel about their new space?
"So happy!" says Suzanne nearing the end of our case study interview, " The kitchen looks great. It's functional and beautiful. The kitchen island is massive; the big pantry is fantastic for kids' lunches.
The basement is precisely what we envisioned. It was challenging, but we knew we were in good hands with Christie's. It was a great experience all around. Trust was so important, and losing confidence was never a thought. Plus, they didn't ghost us!"
With any remodel, there will be challenges. "Expectations of things happening according to schedule, as they did ten years ago, are not realistic. Everything takes longer. Remember to 'Handle the Hiccups,'" says Alyssa, "Cabinets, for example, used to take four weeks, now take 16." The key is to trust us and trust the process to move forward.
Suzanne and Chris were appreciative of the design suggestions and guidance throughout, stating, "The backsplash they picked was the winner!" Adding, "Be open to the pros and their ideas." The appreciation was mutual.
With a successful three-part renovation under their belt, it's no surprise that the Mauers and Christie's have another project lined up – the deck! Currently, the Mauer's home only has a small patio. They are excited to build out a larger, more functional space where they can sit outside, grill, watch the kids play, and enjoy beautiful Colorado summer.
We call our process "The Christie's Way" because nobody does a home remodel like we do! We stand out from the competition as members of the National Kitchen & Bath Association by working with BBB accredited contractors and partnering with Team Dave Logan. We all know that a company could have every fancy association and certification in the world and still not be worth the hype. So, as a person looking to remodel, how can you tell the difference? We recommend reviewing our other case study blog to hear directly from clients about their remodel and renovation experience. And stay tuned for the next case study with one of our many happy homeowners!
Our incredibly skilled and talented team at Christie's Design/Build Remodeling can help you with any remodeling project, big or small, commercial property or residential. Click here to schedule your consultation.