Case Study: Chiffon Vue's Kitchen Remodel
This month's blog is the first installation of a series we are calling "Case Studies," where Christie's takes a deep dive into one person's remodeling experience. We ask about their highlights, memories of the project, and how they feel about their new space. Our client Chiffon Vue agreed to be our very first in the series where she talks to us about her kitchen remodel.
At Christie's, we pride ourselves on our excellent remodeling services for residential properties in Colorado. We call our process "The Christie's Way" because nobody does a home remodel like us. We are members of the National Kitchen & Bath Association, work with BBB accredited contractors, and partnered with Team Dave Logan. But, really, a company could have every fancy association and certification in the world and still not be worth the hype. So, as a person looking to remodel, how can you tell the difference? We would recommend listening to our actual remodel and renovation clients!
To offer some context, we did an entire remodel of Chiffon's kitchen and living room floors, including a bit of demolition. While we worked away, so did Chiffon and her husband. They had a DIY moment with the fireplace while we were redesigning the rest of the first floor of their house. It was all in preparation for the holiday season.
"We started the project like three months before October, so August of 2020? What we wanted was to have the remodeling done for Thanksgiving. Christie's team delivered on the timeline. When we had our family over, everybody was surprised. We didn't tell them, we just had them walk in, and they just stared at everything, saying, 'Wait, are we at the right house,'" laughed Chiffon.
Family is vital to Chiffon. One simple hang-out turns into a party fast, and a party can be 10, 15, or even 20 people! People with prominent families understand how quickly one invitation can escalate. These types of gatherings made Chiffon feel it was necessary to remodel her space.
"My whole family knows the alarm code to my house. They don't even ring the doorbell; they just walk in. The house gets packed fast. We even had to buy two speakers [in our house] just so we could hear the music over everyone," Chiffon said.
So, how did Christie's Design/Rebuild Remodel help? The most important part of the process to Chiffon was that she and her family were comfortable around and trusted the contractors who would be sharing their home for a few months.
"I was talking to my husband and we kind of agreed on thinking about, as we met with people and companies, how comfortable are we with having these people in our house? That initial consultation gave us an idea of whether or not the person made us feel comfortable or pressured. And Alyssa made me comfortable. She made me feel like things were on my time, and she respected our time and space. She was so flexible; Alyssa had no problem scheduling a time when we were all available. She didn't push us to do anything," said Chiffon. "She listens to understand, not to respond."
Communication is key, friends! And for Chiffon, Alyssa passed with flying colors. The next step in The Christie's Way is planning the design. At Christie's Design and Remodel, we use 3D design technology. We can change where a window is or from tile to wood floors with the click of a mouse. It's an excellent tool for realistic, real-time examples of what the remodel could look like for you.
"My favorite part about the project was that 3D design. We could see the results almost immediately when we asked about things we might want. Do the cabinets look good here or over there? Should we have this color or that? It made it really easy to feel sure about where we wanted. I see it on HGTV all the time, and I got to try it myself," said Chiffon. 
Virtual design is great, but what about the results? Well, take a look for yourself!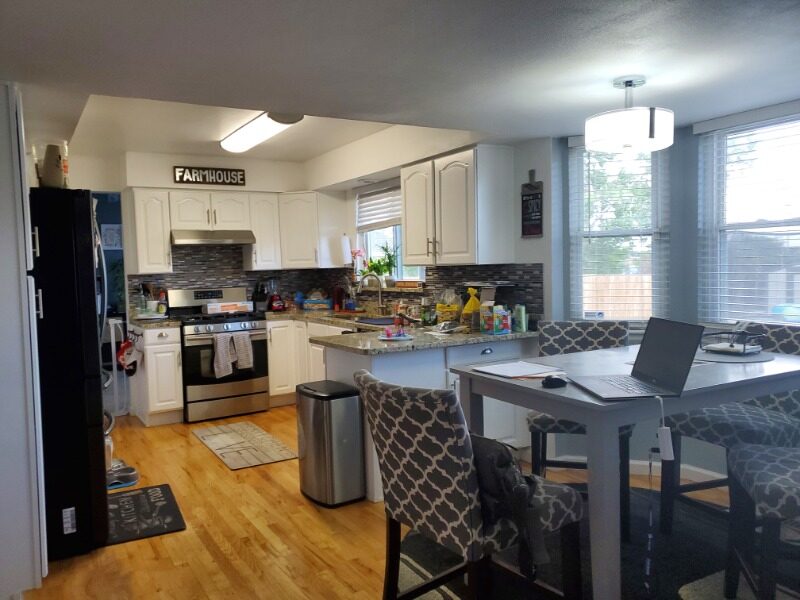 As glamorous as the new kitchen and living room space is, there were some, rather, ahem, not so glamorous moments. Since the entire first floor was packed shoulder-to-shoulder with contractors and construction materials for three months, the family—consisting of 2 kids still at home, one family dog, Chiffon and her husband, and a couple of foster dogs—couldn't go upstairs. Where did they sleep? Their garage, of course!
"And there were other guests too, like occasional bugs and creepy crawlers!"
Temporary critters have become a thing of the past now that their remodel finished. So, how does Chiffon feel about her new living space?
"Happy. I feel happy, the kids are happy, and we can actually see everything now since the wall is opened up! When we had everyone over before, it was like one group of us ended up in the kitchen, and we would forget about everybody in the next room. Now we see the living room and kitchen at once. We added an island, too, because before, everyone would be bumping into each other and running out of counter space. Now we really enjoy time together and can see the kids the whole time."
Even the neighborhood got invested in the remodel. People were coming by to grab flyers and ask questions about Christie's from all over the block. And for the record, Chiffon definitely recommends our services. She says the transparency in communication, whether a permit was taking a long time or the budget needed revisiting, made all the difference in the relationship she built with Alyssa Christie, our Head Designer. The two have been gal pals since the remodel, enjoying the occasional lady's lunch or brunch.
Our incredibly skilled and talented team at Christie's Design/Build Remodeling can help you with any remodeling project, big or small, commercial property or residential. Give us a call today and schedule your consultation. Curious to learn more about our process? Check out our blog on The Christie's Way!