Get ready to wow your summer guests! With some forethought and preparation, you can throw an unforgettable Fourth of July party that everyone will remember. We put together this list of fun and festive home improvement tips to prepare your place now so that you can enjoy the event with your loved ones.
From easy DIY decorations to sprucing up your grill area, here's everything you need to host an Independence Day gathering that shines:
Tip #1 – Do As Much In Advance As Possible
Prepare, prepare, prepare! The key to a stress-free party is to prepare as much as possible. Consider what side dishes, sauces, or mixed drinks you can prepare the day before to save you stress on party day. Plus, most stores are closed on the fourth, so starting early is an excellent way to ensure you have all the required supplies.
Tip #2 – Prep The Deck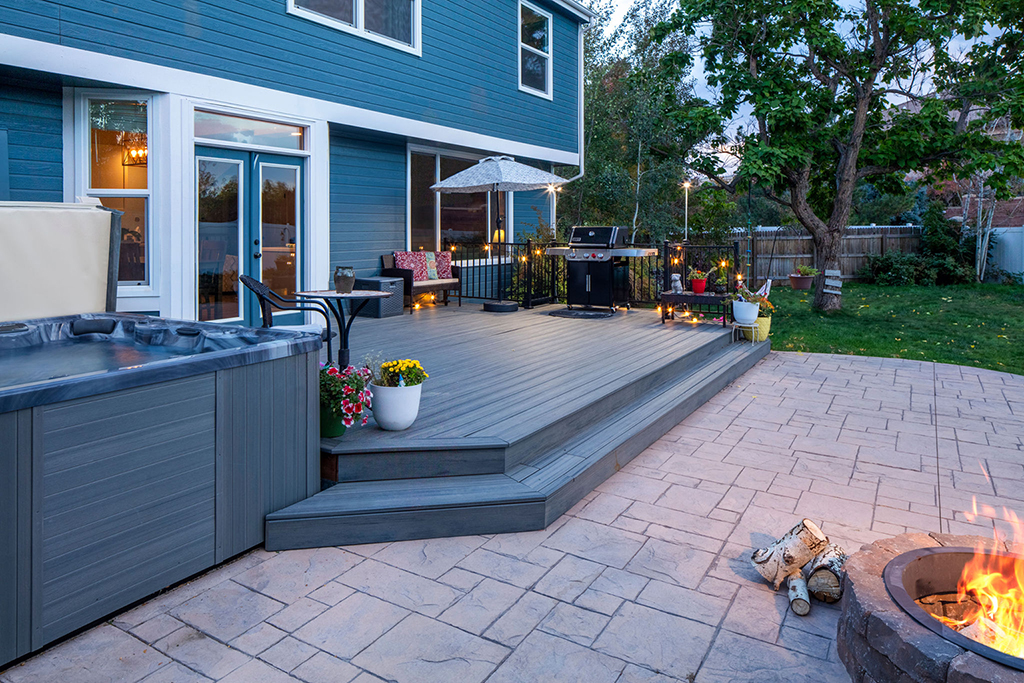 Caption: Take a look at this deck we did for our Westminster, CO, client. See the rest on Houzz.
If you have a deck, remember to make it guest-friendly before hosting, especially if anyone goes barefoot! Begin by sweeping any debris and removing nails or other sharp objects. Once it's clear, wash your deck thoroughly. If your deck needs a fresh coat of paint or new stain, allow 24 hours to dry before starting.
If you don't have a deck but are considering one, look at our previous blog, "Things to Consider Before Building a Deck," to get a sense of the process.
Contact our team to schedule a free consultation by calling 303-833-4715. If you start planning now, it will be complete for the next annual July 4th party!
Tip #3 – Secure Your Fence (And Your Pets)
If you or your guests have pets (or small children), ensure your fence is secured before your event. Given the distractions – loud noises, extra people, music – this step will ensure you don't have to worry about anyone wandering off because a noise spooks them, etc.
If your gate needs repairs, make them ahead of your party. If you don't want to build a fence, try out a dog gate or create a safe, secure, penned-in area instead! Keeping your furry friend confined while still letting them enjoy the outdoors is easy with these options, plus they'll help you maintain peace of mind.
Tip #4 – Curate A Spot For Entertaining
Whether you're setting up your patio, yard, deck, or sunroom, ensure your guests' comfort by providing the essentials! Set up some comfortable seating, designate food serving areas both outside and inside (to avoid those pesky bugs!), an outdoor kitchen, a hydration station, plenty of shade, and outdoor lighting if the evening lasts long into the night.
The beauty of hosting is you can make the space your own! Keep it simple with existing patio furniture – or try something completely different, like bringing a carpet and lounge chairs outside, setting up a canopy, or anything else that comes to mind.
Tip #5 – Get Your BBQ Ready
Nothing says "Fourth of July" like firing up the grill. If you haven't used your barbeque yet this season, it's time to give it an annual checkup. Deep clean your grill, inside and out, with warm soapy water, paying extra attention to the grates. Prep the propane. Ensure you have the tools and space to prep food before guests arrive. Keep a supply of water or a fire extinguisher nearby as a precaution. If you have a grease fire, use baking soda to put it out, not water!
Remember: Always place your grill on stable ground and keep it at least 10 feet away from structures like your home, shed, and deck railings.
Tip #6 – Star-Spangled Details
Red, white, and blue accents are a must for the Fourth of July! But you don't have to go on a shopping spree – get creative and use existing home goods to give your place a festive feel.
Here are a few tasteful ways to incorporate this all-star color combo without being too heavy-handed:
Red, blue, or striped throw pillows
Red or blue plates
Vintage table decor – Ex: Repurpose vintage Campbell soup cans as vases
Use red and blue bandanas instead of napkins or placemats
Red and white flowers
Red, white, and blue candles
Anything gingham!
String lights for that starry glow
Patriotic cupcakes
Patriotic drinks! – Add blueberries for blue, strawberries for red – and vodka for adults!
Red table cloth(s)
Decorate with fruit! Use a star-shaped cookie cutter, some watermelon, and wooden skewers to make patriotic snacks.
Tip #6 – Don't Forget The Playlist
What's a party without music? Create a festive playlist filled with Americana classics that are popular with your group.
Check out Billboard's list of the 20 Top 'America' Songs For July 4th for ideas!
A wireless speaker or iPod dock is usually enough to fill your background with music. However, If you need more amplification, shop online for outdoor audio systems designed to enhance your outdoor spaces with exceptional sound quality.
Whatever you use, make sure you charge, set up, and test outdoor speakers at least one day before the party starts.
Tip #7 – Stay Safe!
As a homeowner, you're responsible for your guests' safety and comfort. Protect them from bugs by keeping garbage covered, setting out citronella candles, and providing bug spray. If you have a pool, create and enforce rules. Ensure there are plenty of shaded areas, sunscreen, and plenty of water available. And remember, never let guests drink and drive – be responsible!
Fireworks Safety Reminder: In Colorado, any firework that explodes or leaves the ground is illegal statewide unless it's a professionally organized show. If you are considering sparklers and they're legal in your town and housing community, keep them clear of trees and any other flammable factors. Keep buckets of water, a hose, or a fire extinguisher handy, just in case!
With the summer season upon us, there's no better time to spruce up your outdoor space. We hope these tips inspire you to decorate your backyard and fire up the grill with some loved ones. Let's make Independence Day 2023 the most memorable one yet!
If you're looking to add a deck, install a new firepit, or otherwise personalize your space with the help of our contractors, contact us at 303-833-4715. Take a look at some of our favorite transformations on our Houzz account for inspiration. Christie's Design Build Remodel is committed to giving you a realistic timeline and 30-day price lock-in once you have signed. We can't wait to hear from you.